MIVA® 5100 Data Collector
MIVA® 5100 is a portable, single channel battery operated data collector for machine condition monitoring and rotor balancing. It can operate standalone or online with a PC connected to it.
In standalone it works as a handheld data collector. Online is useful for e.g. field balancing when simultaneous data collection is required on many points of a machine, e.g. during start-up or coasting down.
Standalone operation
MIVA® 5100 is easy to operate in the standalone mode. Just walk to the machine and follow the steps below:
Enter number of measuring points
Enter machine identity, e.g. serial or tag number
Place sensor on a measuring location
Turn knob to select the point from the menu
Press knob to measure on selected point
Repeat 1-5 for all points on the machine
Data is stored on a 512 MB MMC (multimedia card) and can be analyzed later on. When you have collected all data, they are safely stored on the card even after you have turned off MIVA® 5100 or pull out the memory card.
Online operation
The online mode is useful for field balancing and automated machine condition monitoring. You need a PC with the PEMAC® and/or ROBAL® software installerad.
Set up your MIVA® 5100 units and interconnect them with RS-485 cables. Select one of them as master and the other as slaves. Connect shaft speed signals to the master and vibration signals to both the master and slaves.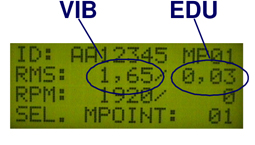 In online mode, MIVA® 5100 measures both overall vibration velocity (VIB) and enveloping vibration (EDU). VIB is a common measurement for determining rotational and structural problems. EDU measures vibrations associated with e.g. bearing problems and gear mesh. Values for VIB and EDU are continuously displayed on the LCD panel. Place the sensor at a measuring point and wait until the readings are stable. The frequency range used for the measurement is programmable, see technical data. For example if you want to check vibration according to ISO standards, you must use the 1000 Hz range for VIB.
Monitor Machine Condition with MIVA 5100® Data Collector
MIVA®5100 and the PEMAC® Download software (PDL) provides a cost-effective solution for machine condition monitoring. All you need to do, is to collect data on machines and start the download software.
Data collection
Collect data manually from a machine by moving the sensor from point to point. Repeat a reading if you are not sure it was rightly done. The last reading is by default the one that will be evaluated when you download the data to your PC.
Downloading and evaluating data
Standard Machine
MCF
Machine Configuration
Q-model
Alarm criteria
K-model
Diagnostic Models
L-model
Clear text messages
Data stored in MIVA®5100 can be downloaded and assessed on a PC with the PEMAC® Download (PDL) software. Evaluation requires machines to be registered in PDL, i.e. the Machine Id must be linked to a Standard machine. This is done the flrst time data is downloaded to PDL.
Standard machine
PDL is using Standard machines for data assessment. A Standard machine contains instructions and criteria for evaluation. As a result of the evaluation and depending on configuration level of the standard machines, PDL will produce a report for the machine and state:
- If fault has developed
- Fault source (bearing, gear etc)
- Severity of the fault
- Appropriate maintenance action
Facts about Standard machines
Different configuration levels exist for standard machines. The basic level offers alarm according vibration standards e.g. ISO. higher levels can provide early warning by setting alarm levels relative baseline. The highest level offers automated fault detection, fault diagnosis and can print out recommended maintenance actions in clear text. VIKON offers Standard machine libraries as part of PEMAC® Operation Services.
Example
Data was collected on three Alfa Laval Separators in a plant. The separators are linked to two different standard machines, with models for fault detection (Q-model) and diagnosis (K-model).
Downloading
The first step is to connect MIVA®5100 to a PC and start PDL Download. This will import data and list identities for machines that have been monitored. It will also show if a machine already has been linked to a standard machine. (See table MachID). A machine must be linked before it can be evaluated.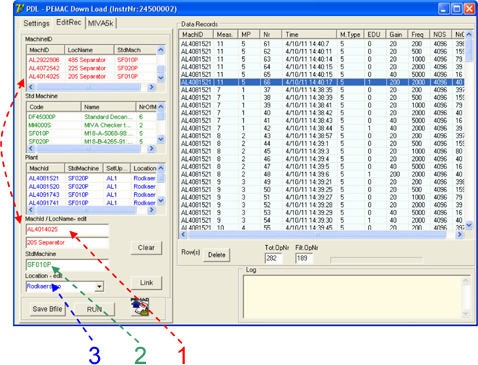 Linking is easy:
Point at the machine to link and give it a name
Select a standard machine you want to link it to
State location where the machine is installed (plant)
Evaluate machine condition
Next step is to press RUN and wait till evaluation is ready. If a problem occurs during evaluation this will be shown in the log window (lower right hand corner). When evaluation is ready you can read machine status with PEMAC® Report.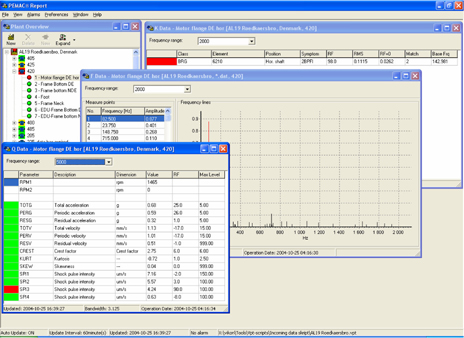 Technical data
| | |
| --- | --- |
| Battery operation | 10 hours |
| Vibration signal | 1 channel not1 |
| Shaft speed signal | 2 channels not2 |
| Bandwidth | 200, 500, 1000, 2000, 5000 Hz |
| Time recording lengths | 8, 3.2, 1.6, 0.8, 1.25 seconds |
| Frequency resolution | 2.56*BW/4096 Hz |
| COM Ports | RS-232, RS-485 |
| Multimedia card (replaceable) | 512 MB not3 |
| Weight | 500 grams |
| Size | 230x115x45 mm |
Note 1: ICP, AC
Note 2: 5V/12VDC
Note 3: When MIVA® 5100 operates standalone
Cascade connector (online operation)
One MIVA 5100 unit can be master and control up to 128 slave units in a RS-485 network. It allows the unbalance response (amplitude and phase) to be synchronized to the speed signals connected to the master. The speed signal defines 0 degrees on the rotor.
Accessories
| | |
| --- | --- |
| MIVA®5100 Field Casing has room for the data collector as well as vibration sensors, speed sensors, cables and mounting studs. | |
| Mounting studs are extremely important when using MIVA®5100 in a predictive maintainance program. If you do not use adequate studs you may risk many false alarms. Ensure you have the best equipment available. Mounting pads are available both for cementing and for screwing onto the machine. | |
| USB-2-RS485 Adapter connects the USB port on the PC to the MIVA® Network via a standard LAN cable. Several MIVA® 5100 can be connected to the network. The one closest to the PC is the Master. All others are Slaves. Speed sensors connected to the Master synchronizes data collection with the Slaves thus providing simultaneous data collection and synchronization with one or two independent rotating shafts. | |
Evaluation software
Software is available for evaluation of Machine status (PEMAC®) and Rotor unbalance (ROBAL®) from data collected with MIVA 5100 online and standalone. For more information, see our other product pages.