MIVA® Accessories
VIKON aims to be a complete supplier and provider of accessories necessary to get the best out of our products. Below you find some of the accessories belonging to the MIVA® product series. For additional peripherals, see respective product page.
Article number
Description
121B00PB04

VIKON 1321 vibration transducer, vertical direction.
Cable 720F, 0.2 m. See below for more information
121B00PB05

VIKON 1322 vibration transducer, horizontal direction
Cable 720F, 0.2 m. See below for more information
122021PB01
Optical RPM sensor, cable 720M, 0.2 m
140B11PB02
Standard cable 720M-720F
Length 5, 10 or 15 meter
140B12PB01
Adapter cable 723M-720F, 0.2 m
140B12PB02
Adapter cable 723F-720M, 0.2 m
140B12PB03
Adapter cable IFRM 12 - 720M, 0.2 m
55-801-05
Shielded, twisted pair cable with jacket in black PVC
Diameter 5 mm, temperature -20 to +80°C
VIKON 1320 Series Vibration Velocity Transducers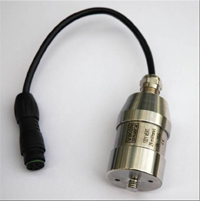 VIKON 1320 Series Vibration Velocity Transducers in an electrodynamic type transducer designed for measuring vibration velocity in industrial environments. The transducers can be used on most types of machines and are fitted with a protruding M8 stud. No external power supply is required..
| | | |
| --- | --- | --- |
| Product number | Product name | Direction of measurement |
| 121B00PB04 | VIKON 1321 | Vertical |
| 121B00PB05 | VIKON 1322 | Horizontal |
The transducer element is enclosed in rugged stainless steel housing. A 20 cm cable with female connector is integrated in the transducer assembly and sealed with a standard cable gland. A cable with twisted pair of conductors and a thinned copper braid screen is recommended for connection to MIVA. Extension cables with mating connector and open end is available from VIKON in standard lengths 5, 10 or 15 m.
The maximum tilt angle when installing the transducer is ±3 degrees. Errors may occur in the measured signal if the sensor is not aligned within limits.
Specification
Sensitivity
29 mV/mm/s, 737 mV/inch/s
Frequency range
4,5 - 2000 Hz
Accuracy
±5%
Temperature range
-40 to +100° C
Sealing
IP 67
Maximum load
50 kOhm
Enclosure
Stainless steel
Cable gland
Nickel plated brass
Maximum tilt angle
3° från working direction (horizontal or vertical)
Diameter
36 mm
Height
75 mm
Weight
300 gram
Mounting
M8 stud
Cable length
20 cm
Connectors
Binder 720-99-0106-09-03 (female),
Binder 720-99-0105-09-03 (male)