MIVA® Machine Protector (MMP)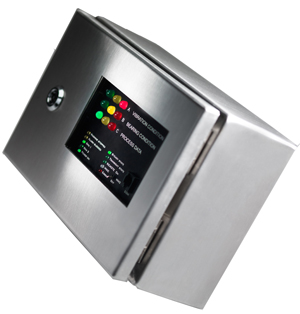 MIVA® Machine Protector (MMP) is the answer when you require the highest possible machine protection in combination with the lowest investment costs and unlimited expansion options. It suits just as well a single machine with continuous in-place monitoring as a full sized, automated online system with hundreds of machines monitored remotely.
MIVA® Machine Protector (MMP) is a combined vibration alarm unit and data collector. It monitors vibrations and bearing condition and generates an alarm when the machine condition no longer is acceptable.
MMP measures vibration severity according to ISO standards and uses different technologies to identify severity of bearing and other machine problems. It is also a data collector to store vibration time records from a large number of machines for later analysis.
MMP has a replaceable memory card (MMC) on which measurements are stored according to user defined intervals up to six months back in time. Here are complete vibration time-series data with all alarms, measured parameter values and important events stored like when the alarm status was changed and when the machine was started or coasted down. When advanced analysis is quired, the powerful tools PEMAC® for condition monitoring and ROBAL® for balancing are used.
MMP is delivered configured and ready for use. The installation and start-up are so easy that one can do it yourself. The super easy user interface is impossible to misinterpret and results in fast and correct actions to avoid costly breakdowns.
Benefits with MMP
There are many benefits with using MMP. Below you see a few of them:
Increased production by minimizing unplanned stops
Increased machine lifetime also increases the return from the investment
Increased safety from running the machine within its specifications
Increased knowledge about the capacities of the machine by analysis of saved data, events and trends
Reduced need of spare parts through better planned service
Higher maintainance quality through measurements after service
Reduced operating costs due to condition based maintainance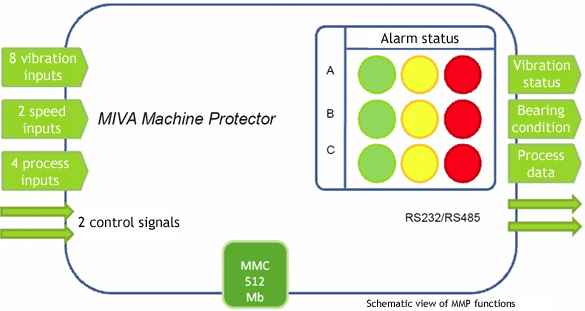 MMP for standalone or online operation
Standalone operation
Before the MMP goes into operation, it should be configured for the machine to be monitored. The configuration can be made by VIKON before delivery. Up to 8 vibration inputs and 4 DC inputs can be handled. Continuous measurements of all inputs are made in sequential order.
Alarm functions
Every AC input has two alarm functions: vibration status (A) and bearing condition (B). The DC inputs can be used as a third alarm (C) for process parameters like bearing temperature.
Every input A, B, C can be programmed for two alarm limits
Every input can have an individual alarm delay
Alarm status is shown in green for normal condition, yellow for warning and red for critical. The relay outputs can send an alarm to e.g. a control room
There are two inputs for alarm blocking at special conditions of operation
Alarms in clear text can be sent as email or SMS (accessories)
Online operation
To connect the MMP to a PC, you need a RS485-2-USB adapter cable connected directly into the panel on the MMP. Then you run some of the following softwares:
MMP Config
Software to configure the measuring task and downloading alarm status and measurements from the MMP.
PEMAC for condition monitoring
PEMAC is a software for automatic evaluation and diagnosis of the machine condtion with reports and recommended actions in clear text.
ROBAL for balancing
ROBAL is a software for balancing rotating shafts. Rebalancing can be made without time-consuming test runs.